Spiritual Gift Discernment
The Greek word for the Spiritual Gift Discernment is "diakrisis" G1253.
Definition and Purpose of the Discernment Gift
The spiritual gift of discernment is the special ability God gives to some to discern the spirits, distinguish between truth and error, good and evil, and right and wrong. Groups need someone with this gift to clarify the Will of God, guard against anything not of The Lord, identify the presence and work of the Holy Spirit, and seek justice by judging situations, intentions and actions.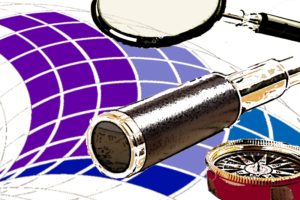 Service ideas:  assessment of church body's health, consultant, evaluation and accountability of doctrine, theology, and purity in the church, prayer team, counseling, mentor/discipleship, congregation council, strategy and goals of the church, social ministry team (e.g., greeter, evangelism, outreach events, new member follow-ups), recovery ministry, spiritual protection of the church 
Vulnerability of the Spiritual Gift Discernment
All the gifts, talents and abilities that we have can be used negatively.  When discernment is used in a selfish, harsh, over-barring, reckless manner or when it is enabling sin or dysfunctional behavior, it would not be Spirit-led or an expression of love.  This gift is best used when coupled with Faith, Evangelist, Encouragement, Interpretation, Tongues and Miracles.
For example, someone with the Discernment gifting could be blessed with natural insight, but at times can unintentionally become judgmental.
Study more:
Romans 14:1 Accept the one whose faith is weak, without quarreling over disputable matters.
1 Corinthians 12:7-11 Now to each one the manifestation of the Spirit is given for the common good. 8 To one there is given through the Spirit a message of wisdom, to another a message of knowledge by means of the same Spirit, 9 to another faith by the same Spirit, to another gifts of healing by that one Spirit, 10 to another miraculous powers, to another prophecy, to another distinguishing between spirits, to another speaking in different kinds of tongues, and to still another the interpretation of tongues. 11 All these are the work of one and the same Spirit, and he distributes them to each one, just as he determines.
 Hebrews 5:14 But solid food is for the mature, who by constant use have trained themselves to distinguish good from evil.
[spacer height="20px"]
Guidance Spiritual Gifts 
Communication Spiritual Gifts
Navigation Spiritual Gifts
Support Spiritual Gifts
Other Spiritual Gifts
Other Helpful Spiritual Gift Informational Links:
[spacer height="20px"]