Where Divine Destiny Meets Devoted Paths
My destiny journey started a little rough.  I went through a honeymoon phase and then the hardships of this world started to weigh me down.  I thought that God was punishing me or opposed me for not being good enough.  I know that sounds very harsh and aggressive.  Honestly, it is hard for me to admit that out loud, but this was a deep-rooted misconception that I had about God's attitude towards me. There was so much of my dad's character that I unjustly and unintentionally put on God. I saw His majesty from a safe distance, but drawing closer to Him seemed a little dangerous.
Embark on the Destiny Journey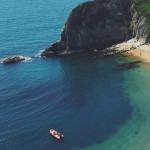 I loved the idea of being right with God and going to heaven.  I said the right prayers.  I went to church more than once a week.  I served in leadership and volunteered where I could.  But on the inside, I was caught somewhere between a pending judgement and striving to be a better person.  With God at arm's length and a fear to let others down, the path seemed to be anything but light and joyful.
Luckily, God is never satisfied with any skewed version of His character.  Hearing His words and trusting them fully is a challenge, sometimes even to the weathered follower of Christ. I was sure I was traveling alone, but I could not have been more mistaken.  First, about who God is and second about my standing with Him.
To embrace our divine destiny is to embrace the process of getting to know the only one true God for who He really is. In a quest for truth, freedom and fulfillment, we should all be challenged to sort through the things we believe and why we believe them.  I have found that anything other than the absolute truth is a trap.
"O taste and see that the Lord [our God] is good; How blessed [fortunate, prosperous, and favored by God] is the man who takes refuge in Him." Psalm 34:8 Amplified Bible (AMP)
"Now this is eternal life: that they may know You, the only true [supreme and sovereign] God, and [in the same manner know] Jesus [as the] Christ whom You have sent." John 17:3 Amplified Bible (AMP)
"Do not conform to the pattern of this world, but be transformed by the renewing of your mind. Then you will be able to test and approve what God's will is – his good, pleasing and perfect will." Romans 12:2 New International Version (NIV)
Welcomed with a Divine Smile
God is not hiding from us.  When we devote ourselves to knowing God more we will not be disappointed.  He graciously receives the tiniest mustard seeds of faith with a smile on His face.  The whole Bible is the story of His love for humanity and His desire to be in a close loving relationship with us.  There is no need to settle for less than all we were created for.
"I came that you may have LIFE and life to the full." – John 10:10 New International Version (NIV)
I also found that God alone can satisfy my heart's longing for more in this life.  Every time I'm distracted, I am reminded again of this truth.  Despite my wavering resolve, God's plan always remains the same, and it is more than just survival and quick fixes to loneliness and boredom. To His glory and by His grace, we have been uniquely created and fully equipped to carry out His purposes with excellence. This abundant life is offered freely and is the key to an overflowing ministry lifestyle. Nevertheless, God will not force His divine destiny on us.
The start, middle and end of our destiny journey will involve a growing understanding of God's goodness. Unlike religion, God wants to loosen the ties that judgement and the demands of being good have on us. My soul has always been and will always be thirsty for that kind of spiritual freedom!
"Come." And let the one who hears say, "Come." And let the one who is thirsty come; let the one who wishes take and drink the water of life without cost." – Revelation 22:17 Amplified Bible (AMP)

Keep Reading | Where Divine Destiny Meets Devoted Paths
Where Divine Destiny Meets Devoted Paths | Table of Contents
Find your Divine Destiny | Spiritual gifts:
[maxbutton id="7″ ] [maxbutton id="8″ ]
Get Connected | Join the Community: #DivineDestinyDevotedPaths
I am writing this Divine Destiny Blog, because I am passionate about who God is and His unique plan for each of our lives. I am excited to journey with you as we both grow and enjoy the overflow of God's love. Get Connected through Facebook or add #DivineDestinyDevotedPaths to your own journey post on social media or in the comments below. May the God of the universe bless you as you are a blessing to others.