Where Divine Destiny Aligns with Devoted Paths
It is a blessing to look back on my life and remember where I came form.  This is my testimony of how God reaches out to us in love and how His power restores and redeems us.  #DivineDestinyDevotedPaths
"The desert and the parched land will be glad; the wilderness will rejoice and blossom…  3 Strengthen the feeble hands, steady the knees that give way; 4 say to those with fearful hearts, "Be strong, do not fear; your God will come, he will come with vengeance; with divine retribution he will come to save you." 5 Then will the eyes of the blind be opened and the ears of the deaf unstopped.  6 Then will the lame leap like a deer, and the mute tongue shout for joy. Water will gush forth in the wilderness and streams in the desert. 7 The burning sand will become a pool, the thirsty ground bubbling springs. In the haunts where jackals once lay, grass and reeds and papyrus will grow." -Isaiah 35:1, 3-7 New International Version (NIV)
A Testimony of God's Grace by Hannah Rico Fletcher
Despite Satan's best efforts and schemes, my story is a testimony of God's grace, faithfulness and His desire to redeem and restore me.  I was born into a religious family.  My dad was a pastor.  We had family devotionals and nightly prayers.  My three sisters and I sat in the front row of each service and were rewarded for singing the loudest and memorizing scriptures.  Nevertheless, our image and reputation seemed to be the true motivator.  If we dared to step out of line, we were severely punished for it.
Religion didn't work for me.  I decided that I didn't want to have anything to do with God or His representatives, and I searched for life in other places. My pursuit of purpose was misguided, slightly reckless and self-destructive.  I continually felt hopeless, dead and empty inside.  And I found love to be the most mistreated four letter word ever used.  I imagine that others would say that I was a lost cause destined for bitterness, anger and worldliness.
"The cords of death entangled me; the torrents of destruction overwhelmed me. 5 The cords of the grave coiled around me; the snares of death confronted me. " – Psalm 18:4-5
BUT GOD! The core of my testimony.
During this stage of my life, I know I was a handful, BUT GOD loved me! That is the only explanation for what happened next.
The assistant pastor of my mom's church started volunteering with the youth group.  He took it upon himself to sit my two older sisters and I down for a serious talk.  I had just turned 14, and I was sure we did something wrong.  He started by letting us know that he was aware of our home life and that both he and God were heartbroken about it.
He wanted us to know that we had a choice.  We could allow Satan to have the victory and continue the cycle with unhealthy relationships, or we could allow God to step in.  He challenged us to forgive my dad and allow God to fill the role of my father.  I felt his genuine love for us without expecting anything in return.  I trusted him.  This was a miracle and has since become one of my proofs that God is gracious.
"In my distress I called to the Lord; I cried to my God for help. From his temple he heard my voice; my cry came before him, into his ears.  7 The earth trembled and quaked, and the foundations of the mountains shook; they trembled because he was angry.  8 Smoke rose from his nostrils; consuming fire came from his mouth, burning coals blazed out of it.  9 He parted the heavens and came down; dark clouds were under his feet. 10 He mounted the cherubim and flew; he soared on the wings of the wind.  11 He made darkness his covering, his canopy around him—  the dark rain clouds of the sky. 12 Out of the brightness of his presence clouds advanced, with hailstones and bolts of lightning.  13 The Lord thundered from heaven; the voice of the Most High resounded.  14 He shot his arrows and scattered the enemy, with great bolts of lightning he routed them.  15 The valleys of the sea were exposed and the foundations of the earth laid bare at your rebuke, Lord, at the blast of breath from your nostrils. 16 He reached down from on high and took hold of me; he drew me out of deep waters.  17 He rescued me from my powerful enemy, from my foes, who were too strong for me." – Psalm 18:6-17
A Gift for Jesus on His birthday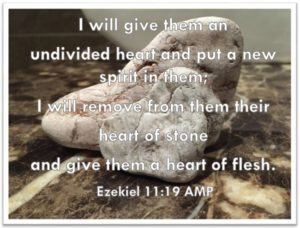 That Christmas, I gave Jesus a gift for his birthday.  I gave Him my hurt and unforgiveness, which turned into the gift that kept on giving, because the abuse continued until my father left my family on Christmas Eve.  Nevertheless, a new hope and healing began to take its course despite my circumstances.  Listen to what Isaiah 61 says about Jesus' mission:
"The Spirit of the Sovereign Lord is on me, because the Lord has anointed me to proclaim good news to the poor.  He has sent me to bind up the brokenhearted, to proclaim freedom for the captives and release from darkness for the prisoners."  – Isaiah 61:1 New International Version (NIV)
God's truth met me right where I was.  His love and kindness amid hardship gently called me to change.  I couldn't explain the transformation that was taking place.  I remember getting high with my friends and finding some excuse to leave so I could read the bible.  Within two years, I had read the whole Bible and in the process, God had won my heart.
"For the word of God is alive and active. Sharper than any double-edged sword, it penetrates even to dividing soul and spirit, joints and marrow; it judges the thoughts and attitudes of the heart." -Hebrews 4:12 New International Version (NIV)
"Have mercy on me, O God, according to your unfailing love; according to your great compassion blot out my transgressions. 2 Wash away all my iniquity and cleanse me from my sin.  10 Create in me a pure heart, O God, and renew a steadfast spirit within me.  11 Do not cast me from your presence or take your Holy Spirit from me. 12 Restore to me the joy of your salvation and grant me a willing spirit, to sustain me. 16 You do not delight in sacrifice, or I would bring it; you do not take pleasure in burnt offerings.  17 My sacrifice, O God, is a broken spirit; a broken and contrite heart you, God, will not despise." -Psalm 51:1-2, 10-11, 16-17 New International Version (NIV)
Redemption and Restoration
My life is a testimony of God's desire to redeem and restore.  To do so, He needed to give me a firm foundation and to remove the destructive alternatives to His Lordship.  At first, I believed that I was alone on the journey, but I could not have been more mistaken.  God continued to send people to encourage, correct and challenge me to continue taking steps of faith.  The more I tasted true life and freedom, the more it became my devoted path.
I would love to be encouraged by your testimony of God's love and the story of how you devoted yourself to Him.  Reply in the comments or just add the hashtag:  #DivineDestinyDevotedPaths
Keep Reading | Where Divine Destiny Meets Devoted Paths
Where Divine Destiny Meets Devoted Paths | Table of Contents
Find your Divine Destiny | Spiritual gifts:
[maxbutton id="7″ ] [maxbutton id="8″ ]
Get Connected | Join the Community: