Where Divine Destiny Aligns with Devoted Paths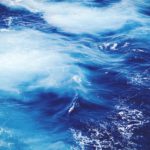 Spiritual overflow does not come by chance.  We are constantly being depleted and our connection to God is the only long-term answer.  Our daily focus plays such a huge role in determining how we live and view the world around us.
I am reminded of the story in the Bible where Jesus asks Peter to get out of the boat and walk to him on water.  The second that Peter began to take his eyes off of Jesus, he sank.  I can totally identify.  The wind and the waves can be so overwhelming sometimes.  It is so easy to focus on what's next or what I need, rather than on the blessings.
Even in the worst storms this world has to offer, we have to focus on God's character and promises.  Stop and consider how amazing it is that the God of the universe is constantly calling to us, ready to grab our hand in our moment of weakness!
A Grateful Heart is a Choice | Rejoice and Be Thankful
When Peter got back into the boat, he had a choice.  He could sulk about his failure and try to get others to focus on him, or he could join in as everyone praised Jesus.  A grateful heart opens us up to God's supernatural power that will lift us above our circumstances.
For since the creation of the world, God's invisible qualities—his eternal power and divine nature—have been clearly seen, being understood from what has been made, so that people are without excuse.  For although they knew God, they neither glorified him as God nor gave thanks to him, but their thinking became futile and their foolish hearts were darkened. (Romans 1:20-21 NIV)
Rejoice in the Lord always. I will say it again: Rejoice! Let your gentleness be evident to all. The Lord is near. Do not be anxious about anything, but in every situation, by prayer and petition, with thanksgiving, present your requests to God. And the peace of God, which transcends all understanding, will guard your hearts and your minds in Christ Jesus. Finally, brothers and sisters, whatever is true, whatever is noble, whatever is right, whatever is pure, whatever is lovely, whatever is admirable—if anything is excellent or praiseworthy—think about such things. (Philippians 4:4-9 NIV)
Spiritual Overflow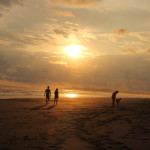 A few years ago, I heard a sermon on being thankful.  I remember being challenged to wake up with the intention of appreciating every moment in that day,  starting from when I opened my eyes in the morning.  "God, thank You for my eyesight, my comfortable bed, for my clean sheets and pillows.  Thank You for my feet to stand on and legs that work.  Thank You for teeth to brush and a place to call home.  Thank You for making every day new and for the sunlight to warm my skin."  And on and on….
Once I started, it seemed like I could have gone on and on, but once I stopped, it was like I needed jumper cables to start again.  I had a 1972 VW bus once with a bad alternator.  My daily essentials included jumper cables, an electrical battery charger, an exceptionally long extension cord and a knowledge of the nearest plug before I stopped the car.  If all else failed, (heaven forbid), or if I stalled at a red light, I was forced to ask for help "push starting" my beloved Volkswagen.
I tell you what, if that bus taught me anything, it was the advantage of keeping the engine running. Similarly, the more we thank God for the things commonly taken for granted, the easier it will be for us to keep an attitude of joyful generosity.  It is time for us to actively accept God's favor with an open heart and arms lifted up.  No matter how much thanksgiving we give, it will never be more than what we have received.  It is impossible to out give God!
Bring the whole tithe into the storehouse, that there may be food in my house. Test me in this," says the Lord Almighty, "and see if I will not throw open the floodgates of heaven and pour out so much blessing that there will not be room enough to store it. (Malachi 3:10 NIV)
Go and enjoy choice food and sweet drinks, and send some to those who have nothing prepared. This day is holy to our Lord. Do not grieve, for the joy of the Lord is your strength. (Nehemiah 8: 10 NIV)
Better to Give Than Receive
For we are God's handiwork, created in Christ Jesus to do good works, which God prepared in advance for us to do. (Ephesians 2:10 NIV)
Now read it in the Amplified Version.  I encourage you to read it slow and soak in how each word is unpacked for us.
For we are His workmanship [His own master work, a work of art], created in Christ Jesus [reborn from above—spiritually transformed, renewed, ready to be used] for good works, which God prepared [for us] beforehand [taking paths which He set], so that we would walk in them [living the good life which He prearranged and made ready for us]. (Ephesians 2:10 AMP)
When I read this Bible verse, I know that I am not on this earth by chance.  I feel loved, cherished and energized to claim my unique divinely given destiny. It is time for us to accept God's favor with an attitude of thankfulness.  The product of this lifestyle change will be nothing less than an overflow of spiritual fruit.
But the fruit of the Spirit is love, joy, peace, forbearance, kindness, goodness, faithfulness, gentleness and self-control. Against such things there is no law. (Galatians 5:22-23 NIV)
When God looks deep into our soul, He sees beauty and potential. Our design was not random or careless. Every detail was intentional, like the brush strokes of a masterpiece. Uniquely created in His image, we have all been graciously gifted. Some of us are meant to guide, others are meant to influence, navigate and support. In different ways, we are destined to build each other up and to shine His glory.
A Superhuman Energy That Overflows
We have locked away, in the very DNA of our being, a mandate to shine a unique and beautiful manifestation of our majestic Creator.  There is a superhuman energy that overflows from our lives as we walk out our God given calling and identity.  I am determined to claim this spiritual overflow as a gift and to allow God to make it part of my norm. Let us embark together as if to start afresh each day.

Continue Reading: Table of Contents  | Start from the beginning | Get Connected