January 14, 2017 Where Divine Destiny Meets Devoted Paths
A Spiritual Overflow Lifestyle | Completely reliant, willing to receive, completely messy, solid foundation, limitless, a little out of control… Are you in?
I would rather be ashes than dust.
I would rather my spark should burn out in a brilliant blaze than it should be stifled in dry-rot.
I would rather be a superb meteor, every atom of me in magnificent glow, than a sleepy and permanent planet.
Man's chief purpose is to live, not to exist.
I shall not waste my days trying to prolong them.
I shall use my time.
Jack London's "Credo," Jack London's Tales of Adventure (New York: Doubleday, 1956), p. vii.
Do we play some significate role in this world, or are we just here by chance? This is a question that I started asking when I was very young. Deep down, I believe that everyone has an ingrained desire to live life to the full and to understand their purpose. Have you ever thought about where that comes from? Why aren't we ok with just existing and surviving?  I never wanted to just exist and settle for the ordinary. Even in my darkest moments, I wanted to live to the fullest and be a light in this world. Jack London's Credo fanned this desire in my innermost being.
What was the purpose of life? Once I knew what I was aiming at, I was sure I could be a lot more effective at getting there. The best I could figure, the difference between existing and blazing was an attitude, focus, deep rooted contentment, lasting joy and positive overflow lifestyle that touches others in my path. I know this may be oversimplified, but it was a good starting point for me.
On Your Mark! Get Set! Overflow!
In the beginning of my search, I avoided the "God road." I saw the weakness in religion, and I didn't want to be trapped or manipulated. Instead, I devoted myself to a more self-directed path that had little intention of encountering God at all. There were so many other good places to look, like financial success, victory, accomplishments, alluring promises of romance, indulging in physical desires and the list could go on and on. Unfortunately, the more I experienced, the more I understood that very few options had enough substance to build a life around. I did my best to resist the urges to settle, but my chosen path was getting a little discouraging.
"For everyone who comes to Me and listens to My words [in order to heed their teaching] and does them, I will show you what he is like: He is like a man building a house, who dug and went down deep and laid a foundation upon the rock; and when a flood arose, the torrent broke against that house and could not shake or move it, because it had been securely built or founded on a rock." (Luke 6:47-48 AMP)
Considering God as the Answer to Life's Purpose
I am not sure when, but slowly I started to recognize my longing for purpose as God's voice. My heart also began to soften to the idea that God and His supernatural gift of love was the only adequate key to life. Nevertheless, this does not mean that we need to be 'holy robots.' Stories about Jesus and God's choice in who He asks to represent Him show us the very opposite. God loves us right where we are, and His love alone can sustain us. Yes, He created us to complete good works, but He also knows we will not achieve perfection here on this Earth. God is not overwhelmed or intimidated by our imperfections.
I saw a post on Facebook the other day that said it best. It was something like: "If people think you are too much, they are not your people!" My friend, God is 'your people.' He is for you, not against you. You should not feel judged and put down by His rules and laws. Think about it. Jesus says that you can sum them up in one word: Love!
First, love God and then, love people. God's intention is LOVE! We were created to love, be loved, worship something greater than us and be part of a bigger picture. And the God who created the universe and formed you in your mother's womb, He is that something/ someone greater. This is the kind of story line that we can build our lives around and pour ourselves into. For you cannot out give God!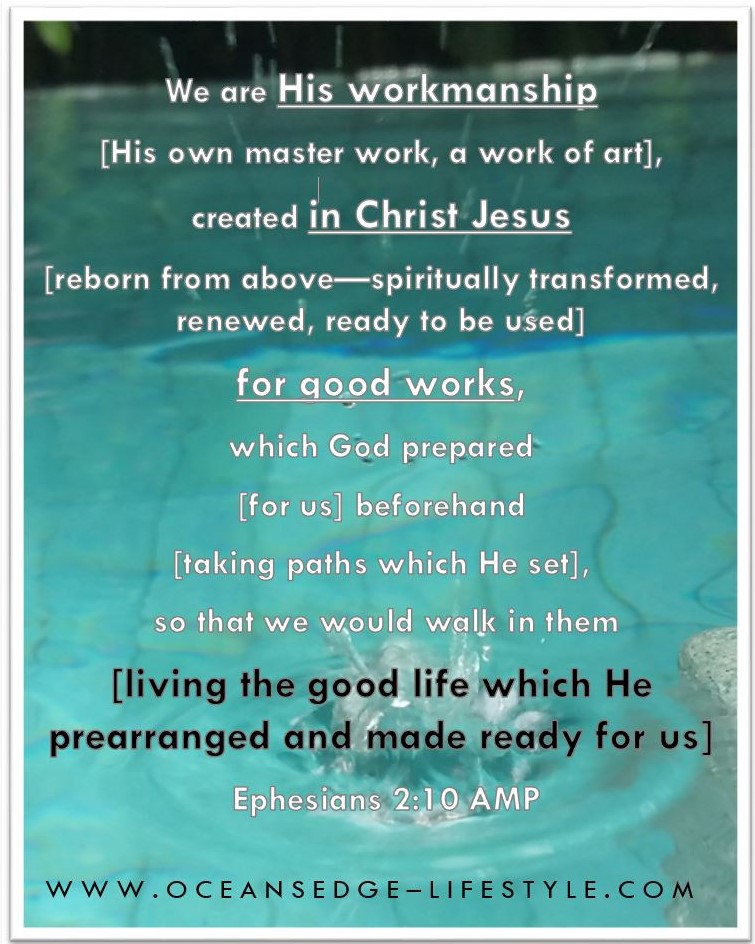 An Overflow Lifestyle Set Ablaze
Who's up for the challenge? An overflow lifestyle is completely reliant on our connection to and willingness to receive from God.  It is completely messy, but it has a very solid foundation. When submitted to God, it is also limitless and will seem a little out of control. You will know you hit the mark when the overflow start looking like:
"Love, joy, peace, forbearance, kindness, goodness, faithfulness, gentleness and self-control. Against such things there is no law." (Galatians 5:22b-23 NIV)
Table of Contents  | Start from the beginning | Get Connected
Get Connected
@DivineDestinyDevotedPaths
Would you like to be part of the #DivineDestinyDevotedPaths community? If so, connect with us on Facebook and you will be notified when new posts are released. Contact us for more information about internships, the Destiny Assessment and international service projects.
*I search for this quote but couldn't find the source.  Sorry for not giving credit where credit is due.  If anyone knows where it came from let me know!