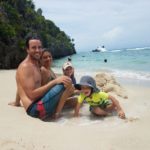 A Masterpiece In Progress by Hannah Rico Fletcher
For we are His workmanship [His own master work, a work of art], created in Christ Jesus [reborn from above—spiritually transformed, renewed, ready to be used] for good works, which God prepared [for us] beforehand [taking paths which He set], so that we would walk in them [living the good life which He prearranged and made ready for us]. – Ephesians 2:10 (AMP) 
My family and I had the pleasure of visiting Roatan, Honduras.  It is known for diving, which means clear water and beautiful reef.  Each day centered around the baby blue ocean and soft white sand.  From the shore, you could see the fish playfully moving in and out of the rocks and reef.  We brought our own snorkels and practiced with the kids in the shallows. The masks allowed us to fully engage, explore and appreciate the underwater world with every size, shape and color of fish.  It was a little taste of heaven.
Living the Good Life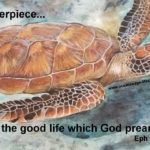 Seeing and swimming with a sea turtle has always been on my bucket list.  So, a wave of joy came over me when my husband pointed one out in the shallow reef.  I swam as fast as I could to keep up with him as he gracefully moved through the reef. He kept looking back at me as if to simply acknowledge my presence and continued along his way.
His beak was spotted with shades of yellow and orangish-brown.  His neck had cracks and bumps that seemed to reflect a purplish-blue. His shell was a combination of amazing plates of armor perfectly placed and unified.  I rubbed my hand on his back and felt the soft and even mossy surface. Soon after, the turtle led me to a 20-foot drop off. I soaked in the beauty of how my new friend moved as he disappeared into the deep blues of the ocean.
I was completely out of breath, and an overwhelming sense of thankfulness came over me.  I had no idea how I was going to find my way back to my husband through the shallow underwater maze, and I didn't care.  I had just seen an outstanding masterpiece and I wanted to remember every detail.  The artistry and elegance was a testimony to the existence of a masterful Creator. 
Seeing What God Sees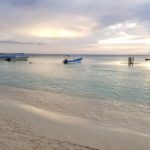 I know this same Designer made me, but honestly it is hard for me to think of myself with such awe.   When I look in the mirror, I am not captivated with an overwhelming sense of thankfulness.  As I go about my daily routine, I forget that God considers me a work of art that deserves to be treasured and guarded.  Instead, I feel normal, wooed by this world, and life passes mostly without consideration. This really got me thinking about the disconnect between how God describes me in Ephesians 2:10 and how I see myself. I seemed to be missing something.
If the word "masterpiece" was meant to describe my physical appearance, accomplishments and deeds, I would continue to be faced with my shortcomings. It seemed to me that I could either strive to improve, or I could accept a sense of failure (either on God's side or on my own).  Then I realized my focus was off.  I was never meant to be the main character. Instead, I am the work of art testifying to God's craftsmanship in a continually creative process.
A Masterpiece In Progress
Like a potter sitting down with fresh clay, God sees my potential (Isaiah 64:8). The truth about my lack, makes His strength, grace and compassion shine. He started by offering a full spiritual transformation from death to life.  Instantly, I was completely redeemed by my acceptance of the sacrifice of Jesus Christ as payment for my sin. Freed from the burden of past failures and the striving effort to be worthy, I am compelled to daily submit to His refining work.  He gently and intentionally strips away my old sin nature and continues to mold and shape me.  
As I humble myself, soak in His love and walk in the good works He set out for me, I find myself identifying more with who God is and less with the old me and this fallen world.   I now look in the mirror and see God's goodness and find joy in the process. I was created and designed for this very purpose: to be a testimony to God's goodness and be fruitful accordingly.  His commitment and promise to accomplish His work in me is awe-inspiring and supernatural. I see my growth, but God sees His masterpiece.
#DivineDestinyDevotedPaths | Where Divine Destiny Meets Devoted Paths