Joy in Jaco
Hello, my name is Emily and I am here in Jaco Beach, Costa Rica on a short term mission trip. I am really enjoying my time here so far! I've been amazed by all the joy in Jaco. Even though living conditions are rough and the town of Jaco is struggling with some very serious issues, the people of Jaco surprise me with their positivity and happiness. It's truly inspiring.
The children
in Jaco Beach, for example, absolutely love Kid's Club which meets every Saturday in the neighborhood park, hosted by Horizon Church a local English speaking church here in Jaco. They play fun games, make awesome crafts, and learn about "Dios" (God). Not only is it a great way to spread God's word, but it also builds community and stability for the children. At the end of Kid's Club they do what they call "Beans and Rice ministry". Each child is sent home with a bag of beans and rice to help feed their family for the week, a slogan everyone has come to know and love here is "Beans and Rice and Jesus Christ". I had a great time participating in jump rope, soccer, and sac races this Saturday at Kids Club, and was blown away by the Joy in Jaco shining through each child's smile.
Samson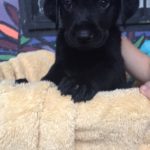 Oceans Edge's new "guard dog", was brought home this weekend. At just six weeks old he has some growing to do to fit into his new role and protect the property! He is incredibly cute and is a great addition to the team here at Ocean's Edge. Although my time here in Jaco is short, I have learned so much about the town, myself, and God. I'm learning that being joyful is an internal, consistent state that can only stem from God. Happiness will ebb and flow, but joy is deep rooted and strong. I'm very thankful for my time here in Jaco, for the relationships made, and for the joy found.
For more information about the ministry or the local church here please contact Oceans Edge and come see for yourself all that God is doing in Jaco Beach, Costa Rica.