Positive family activity where kids between the ages of 4 to 8 can learn to surf, hear a positive bible based message and care of our environment by cleaning the beach. The activity is free for families. It starts every Friday at 3:30 and ends at 5pm. Our goal is to create a bridge to the Church and have a positive impact on the community.
Es una actividad donde los niños, entre edades de 4 a 8 años – Vienen a aprender la actividad del surf totalmente gratis.
La actividad contiene, actividades como, un mensaje para niños basado en la Biblia – Con actividad de limpieza de playa y actividades en la playa. Es una actividad 100 x ciento para familias . Todos los viernes de 3:30 pm a 5 pm .. nuestra meta es crear un puente entre estas familias y niños a la iglesia y Dar un impacto positivo a la comunidad de nuestra bella Garabito, para un mejor futuro y el futuro está en nuestras manos educando en actividades positivas a todo el semillero del Futuro . Que Dios los bendiga !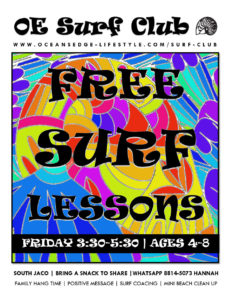 Program Needs | Programa Necesita:
Surf board repair expenses Gastos de reparación de tablas de surf
Soft Top Surfboards | Tablas de surf de la tapa suave
Surf board leashes
Plastic Check in table
Tent for shade | Carpa para sombra
Candies and coloring sheets as a reward for the clean up | Caramelos y hojas para colorear como recompensa por la limpieza
Hand washing station | Estación de lavado de manos
Trailer to transport the boards | Remolque para el transporte de las tablas
Storage area for boards | Área de almacenamiento para tablas
Lifeguards from the city | Salvavidas de la ciudad