Kneeling in the dirt, I'm wondering where's my peaceful easy feeling? After a couple of months in Jaco, despite my proximity to beaches and waves, I know that rest is not guaranteed. Nevertheless, rest is necessary.
In fact, last Friday at 7:00 PM, when I walked outside freshly showered up, dressed to the 10's, ready for dinner, it struck me that I needed rest badly. However, when Hannah, who was desperate to complete a task before the evening rains, asked me to lift a 30+ lb drain cover for a septic tank, I felt a sense of responsibility and guilt.
Quickly, after saying yes, frustration gushed from my pores, as dirt clung to my sweat. After 9 hours of manual labor and overseeing projects, all I wanted was dinner and rest—why didn't I just say no to her asking for my help?
Working Abroad.
When you put your life in 4 bags with a purpose in mind, you can put up with a lot. However, after a couple of months, when the honeymoon phase ends and the rose-tinted glasses are broken and lost, what do you do? Where do you go looking for a peaceful easy feeling?
For me, a deep thinking, introverted feeler, I need spaces to recharge. On that Friday night, I realized I had no boundaries for a safe retreat. Maybe that's due to living in a construction zone—how many projects are left unfinished all the time? Or maybe it's the fact we're hosting teams now—can I still sing in the shower?
Most days, my "home" is filled with strangers and friends: some hammer on walls, other's pick up trash, and still more knock on my door asking for my help. Regardless of the hour of the day, it is like "I am always on."
Horizon Church
Over the next 48 hours, I fought for space to process my frustrations and emotions as more strangers piled on stress. By Sunday morning, an empty and discontent feeling overcame me. I walked out of Horizon church. That's when a friend, seeing my downtrodden and burdened look, came over and caught me. Though I couldn't find my words, God knew my heart and spoke through my friend as he spoke Our Father's blessings over me. Broken walls fell releasing rivers of tears.
Soon after, as church ended and all the smiling people passed me by, I pulled Hannah aside to speak. With a humble plea, I asked her for an opportunity to expose how the last 72 hours of work and life left me feeling. Further, I asked her to graciously hear me out, ask questions, and try to understand me.
Though Hannah and I are as different as the hand is from the eye, I chose to trust her with my feelings, concerns, and frustrations because I chose to believe her when she says that she is for me and cares for me.
The Way of Love
Sometimes, her natural problem-solving ability conflicts with my heart's desire to be understood. Hence, we can miss each other often. For, when I vocalize a problem to process it, she seeks to solve it. Consequently, I leave feeling like I'm a project who needs to do something, while she leaves feeling like a failure because the solution didn't work. For example, in the past I heard her say that rest is my responsibility and priority. Still, I felt guilted into work Friday despite my priority for much needed rest!
In this last conversation, after coming to know each other and speaking more clearly, we appreciated our differences. In honoring each other, we gave special space to the other. She allowed me to vent the complexity of the issue. And when she gave a solution, I noted it. I understood she was using her gifts to love me, not fix me or end my processing.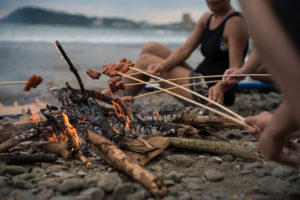 Thus, I pressed on in my explanation, as if I was searching for an elusive puzzle piece. Finally, I described the images and the sense I feel when Hannah or anyone steps onto the property. It's as if her or a worker's presence communicates to me that I need to work and work now.
"…But for me to be near God is my good…"
All of sudden, audibly, she sighed in comprehension, and within me, something like a puzzle piece clicked into place. In being fully known, I am fully loved. In understanding more fully, she could see deeper problems to solve. She asked me to write a post for future interns, which in turn allows me to further process emotions. The body of Christ is honored in our connection and understanding. Completely different and more fully integrated, we understand an issue in a new way. Then, together we move forward harmoniously.

Perhaps, rest won't come easy—it rarely does for me. Often for me, honest, unfiltered vulnerability precedes rest. Thus, I must undergo the hard and worthwhile task of exposing my heart, as it unlocks the opportunity for the Lord to draw near. And, as other's before me have said,  "…for me it is good to be near God…" and, "…in returning and rest [I] shall be saved; in quietness and in trust shall be [my] strength…" (Ps 73:28; Is 30:15).