Join the Ocean's Edge, Become Prayer or Financial. Partner
Hello Ocean's Edge Ministry Partner
There was always great anticipation and joy when the people of God were entrusted with fulfilling God's commission to build.  Noah worked diligently and followed every instruction in constructing the ark that would preserve the seed of life before the great flood.  David and Solomon went to amazing lengths to make sure the best was available for the temple which would house the very presence of the Lord.  Nehemiah prayed for months on end, which resulted in a path of favor as they began to fulfill the Lord's call to rebuild the walls of Jerusalem.
Story after story speak about God's dreams and the people who obediently answered the call to build.  They prayed, labored, and gave with their whole hearts, along with other children of God, to bring about the will of God.  Oceans Edge is committed to fulfilling our part of the great commission and bringing God's Kingdom to Jaco, Costa Rica and beyond.
One thing is certain, our hearts, minds, faith, and ministry are under construction. June 6, 2017 marks the due date of the balloon payment for our loan, $22,400 USD.  Phase 2 of the construction project is 95% complete and we are ready for our new covering, the unifying roof that will bring all the housing together. 
We believe that Jaco Beach will be known as a place of eternal hope and the overflow will impact the world.  For every house is built by someone, but the builder of all things is God Hebrews 3:4.  Become an Ocean's Edge Ministry Partner as we do our part in this exciting commission.
What is Ocean's Edge?
The Ocean's Edge program exists to support, facilitate and inspire others to embrace the abundant life they were intended to enjoy through the redeeming work of Jesus Christ. Our heart is to see others reach their God given potential spiritually, relationally, physically, professionally and financially as they positively impact their local community and beyond for God's glory.
Ocean's Edge is in the process of becoming a recognized non-profit in the States. This process should be completed before the end of 2017.  Once this is complete Ocean's Edge Ministry Partner will be able to get a tax receipt for their donations.
What is the Edge Missions Base?
The Edge Missions Base is a property located in the heart of Jaco Beach, Costa Rica which is managed by Ocean's Edge. The Edge is held in a Costa Rican corporation with an overseeing legal board. The board is committed to supporting and facilitating local ministries and cross-cultural missions. They exist to assure the property is solely dedicated to non-profit mission's work, bible based training and programs that will have a positive impact on the world.
History and Facts| Since 2003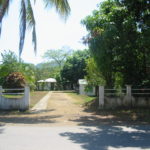 The purchase contract for the Jaco Missions Base was signed April 13, 2003 for $89,000 USD. The seller accepted a $10,000 USD deposit and financed the remaining amount. It included 866.21 sq. m. (9,323.81 sq. ft.) of land, two small tear-down homes and a ridiculous amount of potential.
Since then, many ministries, mission's groups and individuals have called the Edge home and utilized the facilities. The Base is currently facilitating the Ocean's Edge Ministries including the Divine Destiny program and camps, Business School, Internship program and more.
The property is currently worth approximately $300,000 "as is" due to the real estate market. (Please note: This information has been provided purely to answer a frequently asked question. There are no short-term or long-term plans or intentions to sell the property)
The Long-term Vision and Goals
1. The business school and training program currently fill practical needs including building occupational skills, offering educational tools, entrepreneurial support, encouraging biblical principles in the workplace and job placement support. The future goals include:
a. Equipping missions-minded Christians with "Tentmakers" goals.
b. Forming a distribution company for local fair trade goods
c. Offer service, retail and hospitality hand's on training through the Edge BNB and model business opened on the onsite commercial spaces.
2. A self-supported and fully equipped Ministry center available to local ministries, missions teams and the community. The master plan includes:
a. Large conference-style multiple purpose meeting room: Currently, we have an outdoor meeting space we like to call "The Rancho". This area will double in size.
b. A Bed and Breakfast-style housing area: Currently, the property hosts mission teams, Ocean's Edge interns and ministry-minded locals. The existing structure includes three studio apartments, six bunk rooms and a shared kitchen. The master plan brings all the housing buildings under one roof with a large shared kitchen and lock-off options for interns and teams. The final design includes six studio apartments, seven bunk rooms, a two-bedroom apartment
c. Two commercial units with street frontage: This retail space will be used to open and run model businesses for the school and for outreach programs. This is the last phase of our building project. The housing center and retail space will allow the Edge Missions Base to be self-sustaining. In the case that a profit is generated, all funds will be designated to support approved non-profit missions work and programs (e.g., sending and supporting international missionaries, business school programs, micro business start-up, etc.).
The total build out was valued at $250,000, which is broken into phases. The second phase will be completed once the already purchased tile is installed bring us to almost $42,000 invested since January 2016. The next phase is the roof covering the entire living area. For more information on the master plan contact me.

3. A missions lifestyle sending agency: Along with the existing Destiny Assessment and Missions Lifestyle Programs, we would like to facilitate cross-cultural training, sending and tentmaking support.
Our Current Need: Prayer and Provision
The Ocean's Edge vision and goals are bigger than us. We cherish your encouragement and prayers. We also ask that you prayerfully consider coming alongside the Edge Missions Base and Ministries:
In 2017 we saw an incredible amount of process on the Jaco Beach mission base, The Edge!  We have the construction project split into Phases.  Each Phases is started as donations come in.
The new roof was completed and completely paid for ($13,665)
The mortgage was paid down , the loan was refinanced at 0% interest and Phase II of the living space was completed and Phase III is 90% competed as well! 
Our 2018 goals include:
Completion of Living Space Phase II: 
Completion of the Roof: $13665 raise an Project Completed!!!
We currently have $60,000 of the $250,000 over all construction raised!  We have the construction project split into Phases.  Each Phases is started as donations come in.  Our 2018 goals:
Completion of Living Space Phase III: Completed outside and structural inside walls (1st and 2nd floor), Community Kitchen, Septic for the 2nd floor
    Fortification of the West wall: $6500
Ocean's Edge Ministry Partner
To financially contribute towards construction project or any of our outreach ministries by  contact us directly or click here to donate online.  All donations are tax deductible in the USA.