Ocean's Edge Camp | Nosara Surf Chicas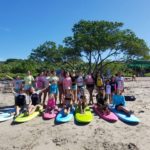 December 16-18, 2016 Nosara Girls Surf Camp | Ocean's Edge Jaco braved the Nosara roads to help facilitate a Nosara Girls Surf Camp.  The theme was "Absolutely Beautify" or "Completemently Hermosas!"  Every morning and afternoon the girls in the Nosara Girls Surf Camp huddled in for a cheer that stemmed from Song of Solomon 4:7:
"O my love, you are altogether beautiful and fair.There is no flaw nor blemish in you!" Amplified Bible (AMP)
"Toda tú eres bella, amada mía; no hay en ti defecto alguno." Cantares 4:7 Nueva Versión Internacional (NVI)
"I feel totally blessed to have completed the first official Ocean's Edge camp. It was a learning experience for us as the leadership team but something really cool stood out to me. The girls, ages 5-16, would huddle in a circle for the team cheer 'COMPLETEMENTE HERMOSA!' I just know God was smiling every time we cheered." – Hannah Rico Fletcher, Ocean's Edge Director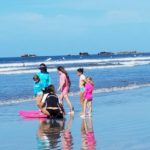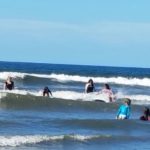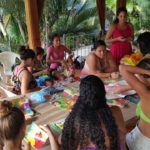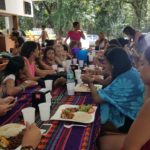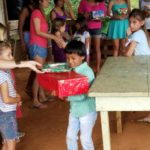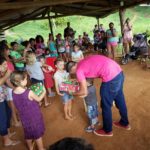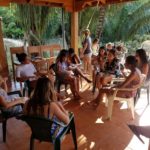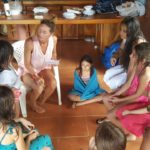 Nosara Girls Surf Camp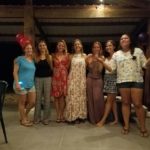 The days started with a morning devotional on the beach, followed by surf lessons, community service project, crafts and workshops. Each activity centered around God's love for us and desire to see us live life to the full (Jn 10:10).  Each of the girls had a chance to discover the unique light that God has placed in them with the kids version of the Destiny Assessment.  And the local Casa Vida Team has the pleasure of continuing life with these precious princesses.  It was such a special weekend.
The Ocean's Edge team considers it a blessing to coming alongside people so focused on making a positive impact on their community.  This is just beginning and we pray that this Nosara Girls Surf Camp has helped give momentum to the vision that the Casa de Amor leadership team has for the youth in Nosara.
"Coming alongside something that is just beginning and helping to give momentum; seeing Aidi and Paola get excited about the girls that came and all that happened surrounding the camp and for what they are going to do"
– April Campbell
For more information on the Ocean's Edge Camps, Training or Destiny Assessment Contact us.