by Kelsey Vormbrock | AIM Passport Short-Term Missionary | It is all about a Love Remembered
About a Love Remembered
Have you ever thought about how people will remember you when you're gone? What would you want them to say about you? Most of us, of course, want to be remembered as a good person and someone who lived their life to the fullest, but is that all that matters? Here's an even tougher question for you readers: how would you want God to remember your life?
When asked this question my first thought was, "I want God to remember how kind I was." Pretty general, right? I took the next week to really think about and reflect on this question. God used this as an opportunity to pour into me how he wants to be able to describe my life. This is what he spoke into me:
"This is my commandment, that you love one another as I have loved you. No one has greater love than this, to lay down one's life for one's friends." –John 15:12-13
God's Dream for My Life | My Legacy
God loves us, his children, so much he sacrificed his only Son so that we may be saved. Can you imagine a love so strong, a love so deep; you would be willing to give your life to save someone else's? God calls us to love one another whole heartedly. With that being said, we are first called to love Him. We cannot love one another as God loves us before we know and love Him unconditionally. During my time here in Jaco, God has been teaching me just that. I have learned to love God in a deeper way than I ever could have imagined and through that love I am now able to show His love to the people of Jaco.
I have been blessed with a heart for children. I have a gift to connect with them in such a way it could only come from God, and I am determined to share that gifting. With every child I meet I am overcome by the innocence about them and their ability to take in everything going on around them. They have not yet been corrupted by the world we live in and therefor are in a perfect place to be molded into the people God calls us to be.
Who Are We to Love Any Differently?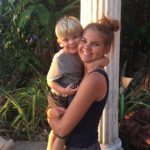 The children of Jaco have captured my heart completely and have provided me with a perfect opportunity to show them God's love. I strive to ensure every child feels safe and experiences a love remembered as pure and overflowing. I instill in them the importance of having manners, being polite and being giving of our worldly possessions. I encourage them to be the best person they can be and to never give up. I do not scold them when at first they do not succeed. I put their well-being before my own; I am selfless with them. Most importantly, I teach them what it means to love God so they may love others as He does.
These are all characteristics of God's love. He keeps us safe, never abandoning us and always encouraging us. If at first we fail, God doesn't get angry or frustrated. Instead, he picks us up, dusts us off, and tells us to try again. He is a patient and understanding Father. If God can love us in this way then who are we to love any differently?
We are called to love one another. First, seek God and what it means to love him whole heartedly. Then, share His love with everyone you meet.  It doesn't matter what you do, or how you live, if you do not do everything in love.
"If I speak in the tongues of mortals and of angels, but do not have love, I am a noisy gong or a clanging cymbal. And if I have prophetic powers, and understand all mysteries and all knowledge, and if I have all faith, so as to remove mountains, but do not have love, I am nothing."  –1 Corinthians 13:1-2
Perspective and Focus
That is how I want God to say I lived! I want Him and everyone else to look back on my life and say "WOW! Kelsey truly loved everybody she met just as God calls us to." So now it's your turn to answer. What would God say about you now and what do you want Him to say about you when your life is over? Go out and Love the Lord our God by loving all of His people and by fulfilling everything else he calls you to. God bless with a love remembered!