Serving the "least of these" in Jaco grows me in ways I couldn't have expected. This is a story about one of those days, where my boundaries get shattered and God's purpose begins to show itself.
One Saturday morning, as I climbed down from my loft, I felt yesterday's still-damp and sweaty clothes hanging from the ladder underfoot. Before I could make my coffee, the scent of the clothes gagged me awake. Fridays and manual labor in the Costa Rican heat and humidity are nothing I looked forward to. Saturday mornings' smells are not much better.
So, out the door and down the uneven stairs I went to throw a load of laundry into the half-working washing machine. Along the way, I say hello to the construction workers beginning their long workday…at 7:30 AM on a Saturday. After the hellos, I unload my offensive smelling clothes from my arms into the old washing machine.
Costa Rica's Rainy Season
Now moist from yesterday's sweat and the morning humidity, I head upstairs to clean myself up. For a moment though, I just want to sit down on my couch with coffee in hand and rel—"Bam. Bam. Bam."
There's nothing quite like three sudden, urgent, and serious-sounding pounds on a door to get a mind flying into fight-or-flight mode. Hastily, I swing open the door.
Standing at my door, sullen-faced and solemn, our general contractor heaves a story at me. Though I understand little of his quick Spanish, his knock, his face, and the sound in his voice—his presence, as it is—says, "fight."
With no time to flip my Crocs into athletic-mode, carefully and quickly, I take the stairs two-at-a-time and jog to the front gate looking for an "hombre" and "sangria."
Crocs are cool in Jaco
In the arms of my co-worker, just outside our gate, a slumped man lays crying.
"Did she hit him with the car? What sort of accident happened?"
I fly through the gates to see the pain in her eyes."Louie, get Wilson some water and food."
In her arms, smelling worse than yesterday's clothes, drunk as a freshman trying to find their place at LSU in Tigerland, is one of our homeless friends with whom we work on some Fridays. Only, this man, Wilson, is one of our best workers. Diligent, on-time, and trustworthy, Wilson showed up for a month to make fun of my broken Spanish and to mix and pour concrete for the foundation of place that hopes to be a light for Jaco.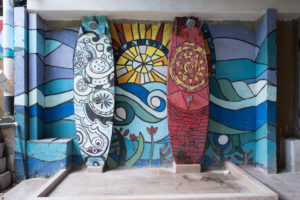 "Whatever You Do For the Least of These"
So, when his job finished, I stopped hearing Wilson's jokes; though, at the time, I didn't notice he was gone. Such is life, right? People can come and go; however, smelling last night's alcohol, seeing a baseball-sized wound on his neck, I am acutely aware that I haven't seen him in at least ten days.
Suddenly, I remember Wilson, never one to miss a meal, missed the past two homeless dinners, and he certainly wasn't sweating with me the day before, but now, in a drunken stupor, it's evident he is the least of these and he needs help.
Without knowing it or what happened to him, I run up the stairs. Gathering food, drink, and some courage, I dart back to Wilson's side. Now with sustenance in hand, I ask what the hell is going on. I wouldn't begin to find the answer to that question until the end of a long day with Wilson.