La Cumbre Camp | Horizon Pre-Teen Camp
The past few days I had the honor of helping to lead at La Cumbre Camp. I went with Horizon Church on this three-day pre-teen retreat and nine of our youth kids joined as well. La Cumbre Camp is located up in the mountains near the capital city, San Jose.
Small Groups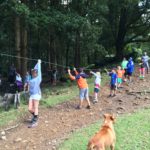 There were three other youth groups in attendance in addition to Horizon Church. All the kids were between 9-12 and almost all were completely bilingual. I wish I could speak English and Spanish as well as these kids could! There were multiple small groups and I had a group of six kids assigned to me and my co-leader, Melissa. We stayed in these small groups for our morning devotionals, afternoon Bible studies and daily activities. One of the best part of the camp was definetely the nightly dance parties. Two hours before bed we would all dance for an hour straight so that the kids would be tired. The plan worked and they were begging us to go to sleep!
Salvation
I loved leading the pre-teen aged kids because they are so sweet and aren't at the age yet where they are too cool to care. They are enthusiastic about everything and get excited about little things. I also love how genuine they are as they have no problem letting you know if something you said doesn't make any sense. This was especially helpful when we were going through devotions because Melissa and I were able to answer some of their questions. We were so blessed to see two people in our small group receive salvation and give their hearts to Christ- the very first day! Then, on the second evening, another girl in our group gave her heart to Jesus. What a blessing it was to see these young children cross from death to life!