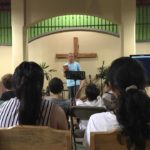 On August 31st we had the first ever weekly meeting for the Horizon Church youth group! I am so honored that the Lord called me here to help the church start this group. The group is called Six11, because it is for students in grades 6-11 (There is no 12th grade here). The group will meet weekly on Thursday nights, with other special events planned throughout each month. I am super excited because at the end of this month we are going to the water park! Helping to plan these events really takes me back to all of the amazing memories I have from being in youth group. It's so cool to be on the planning size some 5-ish years later. It really is everything coming full circle.
Crazy Events to Bring Kids to Christ
I love how God can use ridiculous games and crazy events to bring kids to Christ. This past week we played a game where the kids were divided into teams. Each team had to pick a goalie to duct tape suspended from the soccer goal! The teams then competed taking penalty shots at the other's goal. It was hilarious! It's a beautiful thing to see kids of different ages, backgrounds, and interests come together each week in a community formed around being yourself, having fun, and growing in relationship with the Lord.
My Youth Group Experience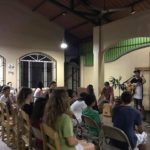 Youth group was by far the best thing part of my middle and high school years. I couldn't get enough of it. To this day some of my best friends, are ones that I made at youth group. Aside from all of the fun I had, my youth leader was and still is one of the most influential people in my life. Weekly he brought guidance to my life and so many others. I truly believe that God put him in my life, when I was at a very formable age, to help mold and shape me into the man I am today.
Knowing what youth group did for my life, I am honored and humbled to be put in a position where God can use me to help create a lasting impact on the lives of teenagers here in Jaco, Costa Rica.
Read more about my experience in Costa Rica  at http://kylecostamagna.com
For more information about Ocean's Edge Ministries click HERE!