Emily Rypkema | The Journey Begins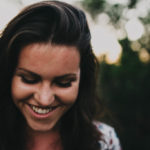 My name is Emily Rypkema and I'm going to Costa Rica! No, I can't believe it either. But it's true. In June I'll be taking six month internship with Ocean's Edge Internship Program in Jaco, Costa Rica and it couldn't have come at a better time.  
I woke up on a dreary, Monday morning in January feeling uncertain (yet again) about the future. I was finishing up my last fall semester of college and these past four years had been planned out strategically to increase my chances of being accepted into a Physician's Assistant program. This plan shattered. I was rejected and felt lost. I was nowhere near having an idea of "what I would do the rest of my life".
So Why Costa Rica?
Well Daniel and Sarah Barrett moved from Lexington, SC to Jaco when I was in high school. Daniel was my youth pastor and Sarah, my small group leader. They both taught me about being a Godly woman, a leader, and having flexibility while serving; things that still impact me to this day.
 During my Junior year of college I became very interested in visiting them in Costa Rica and serving with them, however, I continued to pursue PA school. I told myself that "if I didn't get into school this was what I was going to do". I was terrified of being denied and even more terrified of telling people of this rejection.
And Then It Happened.
I was heartbroken and lost. And so I began paying about what should be next, asking a lot of questions: would I ever go to PA school? Did I even want that? Or did I just decide on that because it would be a good fit?
One thing was certain; I would apply to the internship in Costa Rica. This was when I had to trust God and relearn what trusting Him meant; I was vulnerable again because I was facing rejection, I have never been more uncertain of my place and purpose and after what felt like months, my phone rang and the red badge appeared over my inbox.
This email would change my outlook of my future tremendously; this email was confirmation of my acceptance to the Ocean's Edge Jaco Internship Program in Jaco, Costa Rica.
I was elated, nervous, but also relieved; It may not be the rest of my life, but it was six months where I knew I would be and what I would be doing. My excitement grew while reading about my responsibilities but most importantly I was joyously overwhelmed with how this program will mentor, disciple, and encourage me towards a healthy Christ-centered lifestyle.  
Ocean's Edge Jaco beach | Internship 
Ocean's Edge works hand in hand with local churches by providing and housing staff to serve in the community. They are partnered with Horizon Church, the church Daniel and Sarah planted which is where I will be. I will be involved serving on their worship team, with the youth, and the children's ministry, I will host the short term missions teams that come to Jaco, along with various responsibilities that may come up while I'm there.
As I prepare for this next chapter, I sometimes get lost in the logistics: practicing Spanish, reading books, writing letters but it's when I feel buried with my "to do" list is when I remember that my priority should be spending time in God's Word and praying for God to take control and open my heart to everything He wants me to learn during my time in Costa Rica.
Today, I still wrestle with these uncertainties but I am excited for the opportunity I have to serve God and love others while using my abilities, talents, and gifts I have been given.
 I would like to invite you to join me on this journey as I write about the preparation and the experience. Your prayers and support mean the world to me. – Emily Rypkema