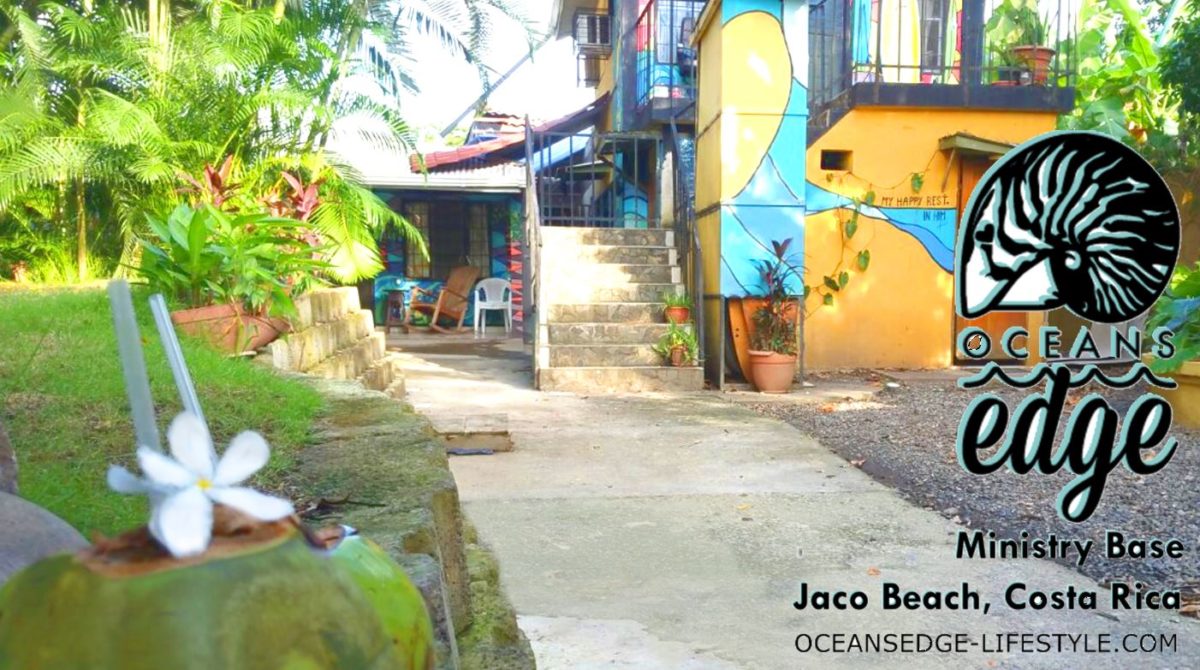 The Edge Ministry Base | Jaco, Costa Rica
We am so excited to officially announce a new ministry movement here in Jaco Beach, Costa Rica stemming from The Edge Ministry base. Most of you know of my past with Young Life and Christian Surfers and even supported me through the excitement and heartbreaks. For many years, I have been living the "mission's lifestyle" with no official title other than a REMAX Real Estate Broker here in Jaco Beach but I guess the calling that God has on my life is hard to escape. Today I would like to tell you about the journey that has lead me back to the position of pioneer a ministry.
In 2003, when I first moved on to the Jaco Ministry Base here in Jaco Beach, and put the deposit down, I imagined all the possibilities and dreamed of having a discipleship training school.   When my time with Christian Surfers ended, I left the property and I wrote myself off and assumed that someone else would carry out the vision.
Then a few years later the ministry asked me to step back in and take responsibility for the property again. To be honest I wasn't sure what to do. Years passed and I prayed, dreamed, and hid from the responsibility of my calling.   Like many others wounded on the spiritual front lines, I allowed fear of myself and other people to pacify me.
Nevertheless, I look back to this season and see the valuable lessons that have completely changed my perspective about missions and Christian service. First, if you hang on to all the positive press about yourself…. The negative side that is sure to come WILL ground you. Why? Because other are not perfect and neither am I. As I look back on my "good' works I can be my own worst enemy but the story is not about me and my abilities to do good, is it?
Committed to a Ministry Lifestyle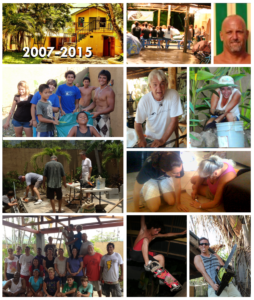 This leads me to my second most valuable lesson in ministry, as "little Christs" we have no other option than to shine and our weaknesses is the perfect opportunity for his light to break through our cracks. This is where the overflowing abundant life to the full comes in. Read John 10:10! It is clear Jesus is the source… not me and my efforts.
Lastly, "missions" was always meant to be a lifestyle not a special calling or a position in a church or a title on a ministry website. God uniquely created each of us to shine; his design is our personal treasure map leading us to our destiny.
The year of 2016 was my year of movement. Not more talking about getting into the mess of ministry. It was time to dive in and never go back. And WOW! God has showed up! He is so good at taking our baby steps and making them victorious.
The year of 2017 will be marked by our overflow.  Our goal is to be so changed by and filled with God's love, grace and peace that we make a noticeable positive impact on our community and beyond.  We would love for you to join us!


I am writing a book to tell my story and help others mobilize according to their God given gifts. I have completed the Destiny Assessment which combines the spiritual gifts with popular personality testing. It is a work in progress but I have already seen God bless others with a better understanding of how He uniquely created them.
The discipleship training program, Ocean's edge, is being pioneered and established with a solid leadership team. I am blessed to be ministering alongside people I trust and am kindred in spirit with. Our main focus to build up and equip ministry focused believers. This includes Destiny assessments, business and trade classes, internships, mentoring, mission's trips and ministry training. Our hope is to raise up and send out believers with a heart to love the world as they aim to glorify God.
And lastly, new life is budding on the property that is now called "The Edge" Mission Base. Phase one and two has almost been completed which expanded out on-site housing and now allows us to host mission's groups, visitors and up to 20 people in our new internship program. The B&B will also be a training ground for students to learn a variety of skills from customer service to small business skills to cooking. The income generated from the school and B&B will be returned to the ministry to help support missions. The phase to come include a new roof, more housing, a Coffee House, Laundromat, an Art Garden offering art classes and a Repurposing Store and more. All of these businesses will be for the purpose of training students and generating missionary sending funds but they serve as an outreach into the town of Jaco Beach.
How you can be involved:
First and foremost, please pray. Seriously! This is bigger than we can handle alone. Pray for direction, wisdom, provision, unity and that God would call many to come, grow and go. To continue receiving monthly updates from Ocean's Edge please respond to this message and let us know. We will send our prayer needs and progress so that you can partner together with us in prayer and rejoice with us as God continues to show off.
Next, please prayerfully ask God if He would have you partner with us beyond prayer. It would be a huge blessing if you could bring a team to help on site. We would love to host you and get you involved hands on to see the completion of construction of The Edge Missions Base!
Since construction began, God has been faithfully providing to pay the workers and provide the materials. We absolutely know He will continue to be the provider. Perhaps you will be called to be a part of the provision and bless financially to continue the building process.
How you can give: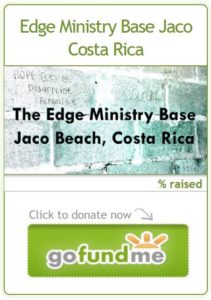 We are in the process of setting up a 501c3 in the United States and also establishing our ministry locally. In the meantime, unfortunately we are unable to offer tax deductions for Ocean's Edge financial partners.  If you would still like to give you can visit https://www.gofundme.com/edge-jaco-ministry-base-mortgage or contact me to make arrangements.
We are so blessed as we watch God moving and hope you will be led to come along with us on this incredible venture in faith! Thank you for your prayers, encouragement and years of friendship.
Embrace Life,