Centro Prenatal | Ocean's Edge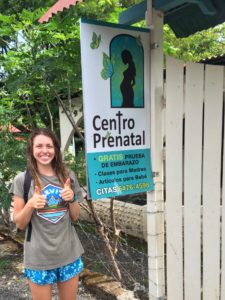 By Melissa New | Ocean's Edge Intern Today, I helped out in the Jaco "Centró Prenatal" ("Pregnency Center" in English) for the first time. There is also a Centró Prenatal in Tarcoles, and I have had the pleasure of serving there as well. They are run by an overseas-missionary organization, Beautiful Feet. Horizon Church sponsors and helps support the centers, as well.
Jaco Location
I am most familiar and work the most in the Jaco Centro Prenatal, as it is closest to me. Here there are currently three Spanish-speaking counselor who volunteer on a rotating schedule. The counselors work with moms who are either pregnant or needing help with their newborns. Centro Prenatal also offers free ultrasounds and pregnancy tests. The counselors take the women through parenting lessons that cover a variety of topics, all while sharing the gospel. As the moms attend their classes, they have an opportunity to earn "dollars". This is done by memorizing scripture and doing their parenting homework. They are then able to use their "money" to "purchase" items for their children. This could include diapers, baby clothes, baby wipes, strollers etc. The purpose of this ministry is to show women they have value and to provide them with tools. We want them to know God created them and their children for a purpose.
Secretary Work
Right now I am in training for how to be the secretary for the administrative side of things at the center. Before me, a few of the team members were assisting several days per week and before them it was only the pastor's wife, Sarah, and another missionary here, Becky. I am excited to continue to learn more about secretarial work so that I can serve the center as best as I can. In addition, its cool to expand on my skill sets so that I can learn how to become a more well-rounded person.